A new and improved way to play the lottery online in the Sunshine State is expected to arrive later this year when the Jackpocket Florida app officially launches. This popular third-party courier app will allow eligible players to purchase tickets on the go and easily play their favorite national and state-level lottery games online.
Below, we will dive into how to access the best Jackpocket Florida promo code, review everything you need to know about the app, and run through how to play games Powerball, Mega Millions, and scratch-offs.
Jackpocket Florida Promo Code
Because the app has yet to launch in-market, there is not yet a Jackpocket Florida promo code available. When it does go live (expected sometime later this year), we will have the best overall code that drives the new player signup bonus.
Right now, players in states where the app is live receive a $2 discount on their first purchases.
Essentially, this gives users the opportunity to play draw games, scratchers, and other available options for free, and allows users to test out the app's features.
While it's possible a different offer will be available to players in Florida, we will have to wait until the days before launch to confirm.
| | |
| --- | --- |
| 💲 Welcome Offer | Free $2 Ticket |
| 🚨 Jackpocket FL Promo Code | HANDLE |
| 📲 Mobile Apps | iOS, Android, and Samsung |
| ⏰ Jackpocket Free Ticket Expiration | The current promo does not have an expiration date |
| 🇺🇸 States Available | Arizona, Arkansas, Colorado, Idaho, Minnesota, Montana, Nebraska, New Hampshire, New Jersey, New Mexico, New York, Ohio, Oregon, Texas, Washington DC, West Virginia |
| ⭐️ Our JackPocket Review Rating | 4.8 stars |
| 💯 Lottery App Ranking | 1 of 4 |
| ✅ Minimum Age To Play | 18 years old |
New customers can sign up for a Jackpocket account today to receive $2 off their first order. Yes, Powerball and Mega Millions tickets cost $2, so you are getting a free ticket to throw at a massive Jackpot.
There are four steps to claim the Jackpocket bonus:
Visit Jackpocket.com
Download the mobile app for iOS or Android
Make a deposit
Place your first order (Jackpocket will apply the discount code "HANDLE" at checkout)
Currently, the app (which is available on iOS, Android, and Samsung) is live in 15 other markets and ranks as the top downloaded option of online lottery players. There's a reason for this, too, as its easy-to-use and crisp-looking interface makes playing fast, efficient, and fun.
Those who have played online games through state-operated lottery operations elsewhere will quickly notice a superior overall look and feel that makes for a vastly better user experience. Ultimately, players are getting a first-rate app that provides direct access to all of Florida's must-play lottery games.
While core features and top-rate functionality will ultimately drive player growth and retention, the Jackpocket Florida promo code provides a nice added incentive to get things started.
Other Jackpocket Discounts and Bonuses
Not to be overlooked are the additional specials available to the recurring players. While the Jackpocket Florida promo code ensures a new player bonus, the app also incentives customer loyalty through a variety of additional sweepstakes and offers.
Such incentives may include credits to purchase tickets and discounted ticket prices. The app also has a player referral program that rewards users for spreading the word to friends and family.
When Will Jackpocket Florida Be Available?
Again, please allow for speculation on our part, as no definitive date has been set for the release of Jackpocket in Florida.
Based on industry discussion, we're fairly confident the app will arrive in the coming months.
At the very least, it should go live by the end of the 2023 calendar year.
How Will the Jackpocket Florida App Work?
Jackpocket is a third-party courier, which means it is not operated by the Florida Lottery. Instead, it has gained government approval to act as a liaison between prospective players and the state-operated lottery to facilitate quick, efficient, and legitimate online lottery ticket orders.
In other words, Jackpocket makes the transaction on behalf of the purchaser.
For players, the benefits are obvious. Tickets can be ordered from anywhere in the state at any time, so there's no need for a trip to the gas station, grocery store, or wherever else tickets are solid.
For the Florida Lottery, the benefits are significant, too, as the app helps drive sales, which, in turn, helps increase revenue toward state-funded programs. To date, over $44 billion has been contributed to state education programs, per the Florida Lottery.
So, how exactly does the user experience work? It's pretty simple:
Head directly to jackpocket.com ( or app stores on iOS, Samsung, and Android devices)
Download the app.
Use our promo code (to be announced ahead of launch).
Complete the registration process by providing your full name, address, date of birth, a valid email address and the last four digits of your social security number.
Make a first deposit and pick the game of your choice. See below for a detailed look at available banking methods and game selections.
What to Expect From the Jackpocket Florida App
Given that the option to purchase online lottery tickets in Florida will be new, there are bound to be many questions. To name a few:
Are purchases protected and is my money safe?
How do I get money into and out of an account?
Will I actually get paid if I win?
What are people saying about the app in other markets?
Like any online store or purchase portal, consumer confidence is key. Providing adequate answers to such questions is top of mind for Jackpocket, so let's tackle some of the burning questions.
Is Jackpocket Legitimate?
There are a variety of checks and balances in place to ensure both the overall safety and legitimacy of the app. It's important to note that both individual state governments and the federal government both enforce stringent online gaming regulations that cover everything from the safety of funds to the legitimacy of games. As a third-party courier, Jackpocket must meet these requirements in order to operate as a licensed vendor.
So, yes, the app is wholly legitimate as an approved and verified online lottery retailer. As of May 2023, the app has received an average of 4.8 stars over 129,000 reviews on Apple's App Store.
Part of the safety and legitimacy measures means that players must be of age (at least 18 years old) and located within state lines to purchase a ticket. Geolocation tools ensure that players are physically present in Florida at the time of purchase.
So, whether you're hanging around the Jacksonville area, down in Key West, or anywhere in between, you will be good to order tickets as long as the app geolocation tool verifies your whereabouts.
History should also help establish a baseline of comfort. Remember, Jackpocket has been in operation for nearly a full decade and has established itself favorably in over a dozen pre-existing online lottery markets.
Overall Safety Is Key
The other key part of the equation in assessing the overall legitimacy of the app is its safety features. Users need to know their hard-earned money and personal data are safe. The Jackpocket Florida app uses encrypted technology to protect user data, much the way an online banking app would.
In terms of funds, players can access a variety of banking methods that carry their own levels of security to ensure the safe transfer of funds into and out of the app.
Some options include Visa, MasterCard, Discover, Apple Pay, PayPal, and Venmo.
What about winning tickets? Currently, players who purchase tickets at retail locations know that as long as they safely possess the ticket, they will be able to access their winnings.
So, is there a need to have any uncertainty over an online purchase that doesn't put a ticket physically in the hand of the buyer? Nope. Following each purchase, Jackpocket Florida will send an email confirmation with ticket numbers and also house a physical copy of the ticket in the app. Essentially, this ends up being a safer, more reassuring way to purchase a ticket because the digital copy can't be lost.
For popular draw games, players will have the option to select their own numbers or have number combinations randomly generated.
How to Claim Money on Winning Tickets
Congrats, you have a winning ticket.
Now what? Will it be more difficult to claim prizes?
Not at all. In fact, it's easier.
For wins of fewer than $600, players can use the app to immediately withdraw funds directly to their preferred banking method. For wins of $600 or greater, Jackpocket will facilitate direct plans with the Florida Lottery to ensure the safe transfer of winnings.
Ultimately, this results in the same procedure for a winning ticket purchased at a retail location, but the Jackpocket team will help ensure the completion of the transaction.
Available Lottery Games on Jackpocket Florida
Again, there is a level of speculation in play here. Since the app isn't live yet, we don't know the full offerings that will be available. That said, we can take an educated guess.
First, let's establish what we do know with 100 percent certainty. The Jackpocket Florida app will bring direct access to the two most popular national draw games — Powerball and Mega Millions.
With consistently massive jackpots, both games consistently generate significant interest. That interest only heightens every so often when potential winnings eclipse the $1 billion mark, which has happened a handful of times over the past decade.
Now for some speculation. In other states, Jackpocket users can access other popular games, so it's reasonable to assume many of the following options will be in play:
Florida Lotto
Cash4Life
Jackpot Triple Play
Cash Pop
Fantasy 5
Pick 2, Pick 3, Pick 4, Pick 5
Scratch-offs ranging between $1 to $50 games may also be in-play.
Jackpocket Florida will also show, in real-time, current jackpot totals for each game and post deadlines to play. This ensures players know the full scope of the game they are about to enter and confirm participation requirements are met.
Pool Play
Just as available games with the Jackpocket app vary by state, so do some other core features. One such feature is pool play. Currently, seven states (AR, CO, MN, NH, OH, OR, TX) and Washington D.C. permit pool play.
Note: It is not yet known if Florida will permit these features.
So, what exactly is pool play?
It allows players to team up with other users to "pool" their tickets together, thus enhancing the likelihood of a win. Each player contributes toward the group of tickets. Jackpocket tracks the contributions, and in the event of a win, will coordinate the winning amount each player is due.
There are two ways to participate in pool play. Users can join public groupings and play with other random users, or they can create private groupings. This is great for players who want to go in on a pool with co-workers, friends, or family members. Basically, this is exactly what happens when everyone in an office throws up a few dollars and one co-worker heads to the store to buy tickets.
Now, however, there will be no need to waste time with a trip to the store or record-keeping.
Is There Any Downside to Using Jackpocket In Florida?
To this point, we have had plenty of glowing things to say about Jackpocket and what it may look like when it begins its Florida operations.
This begs the question, is there a downside? Well, there's one — Jackpocket has to make money somehow, so let's look at how that works.
Here's the good news — and it's important — Jackpocket does not take a share of winning tickets.
As a practical example, if you hit the Powerball for $1 billion, the government will get a share of your winnings, but Jackpocket won't see a cent of it. Therefore, there is no need to shy away from the app out of fear that wins will be even fractionally diluted.
So, what's the catch? How does the app generate revenue?
It takes a percentage fee on ticket purchases, acting as a service charge.
Typically, this fee ranges between 7 and 10 percent of the purchase price. So, let's say a player buys three Mega Millions tickets at $3 apiece, thus spending $9 total. And let's say that player is in a market where Jackpocket charges its high-end 10 percent fee. Users will pay Jackpocket 90 cents to make the ticket purchase.
That's where financial obligations both start and stop.
From our perspective, given the time and money saved through the online purchase, this is a reasonable fee that may provide value to retail purchases.
In terms of any additional negative considerations, the only other element worth noting is the app isn't available in every state. If you're not in one of the states where Jackpocket is live, then you won't be able to use it to purchase tickets.
Our TLDR Jackpocket FL App Summary
If you're looking for a more concise, direct analysis of the Jackpocket Florida app, then here it is.
If you're going to play the Florida Lottery, then using a Jackpocket Florida promo code will be the best overall way to do it once it goes live.
Players will be able to enjoy the efficiency and ease of the purchase process as well as the additional organizational tools offered by the app, while also benefiting from a free $3 bonus to go towards the purchase of tickets.
The app is safe, secure, and legitimate. It offers players a variety of ways to make easy deposits and withdraws and access to Powerball, Mega Millions, and other popular national and multi-state games.
Eligible players who are looking to save time and skip the hassle of driving and waiting in lines to play the lottery in person will find the Jackpocket app to be a must-have at launch.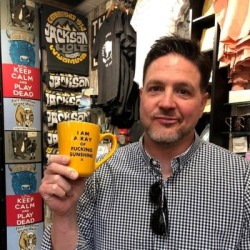 Latest posts by Jason Ziernicki
(see all)