How to Buy Mega Millions Tickets Online
Only a handful of lottery games garner the interest generated by Mega Millions. With the ability to reach 10-figure jackpots, national scale, and big-time hype, there is an understandably high amount of interest in how to buy tickets online.
While the game itself and the ability to play online are not yet available in all markets, several state online lotteries offer either the ability to buy Mega Millions tickets online directly or through third-party apps like Jackpocket.
Direct online purchases remain relatively new in most states and lack the scale of retail sales, but the overall ease and efficiency offered by purchases made through mobile devices and computers have helped drive recent growth.
In total, Mega Millions is available in 45 states as well as both Washington D.C. and the U.S. Virgin Islands. Of those 47 total territories, prospective players in 15 of those states currently have the freedom and flexibility to make lottery purchases anywhere (within state lines, of course) at any time.

Where You Can Buy Mega Millions Tickets Online
Currently, prospective players essentially have two ways to buy their tickets online.
In some cases, state-run online lottery programs allow players to create an account, deposit, and buy tickets directly, much the way they would purchase physical ticket at retail locations (i.e. grocery stores, convenience stores, gas stations, etc.).
For instance, both the Virginia online lottery and Michigan online lottery have state-run operations.
Alternatively, many states have turned to third-party courier platforms such as Jackpocket, Lotto.com, and The Lotter.
Players can signup for the Jackpocket app and claim a free $2 lottery ticket with our Jackpocket promo code.
From an operational standpoint, not much changes for the purchaser. The ticket is sold just the same, except the app holds the ticket on behalf of the purchaser. In the event the ticket wins, the buyer possesses the full rights to the payout.
In the event a user claims a prize valued at fewer than $600, the money can be claimed directly through a variety of banking options. As is the case with significant wins purchased at retail locations, the player and lottery make separate arrangements for payment.
For instance, if a player were to win a jackpot anywhere remotely in the neighborhood of the $1.54 billion payout — an all-time record — like the one recorded in October 2018, the lottery would make direct contact to coordinate such a payout.
Notably, such as massive payout ceiling wasn't a one-time deal. In July 2022, an Illinois player hit on a $1.34 billion jackpot, while a player in Maine struck for $1.35 billion earlier this year.
Perhaps most importantly, not only are these options easy to use, lottery apps and state-led online operators are tightly regulated, meaning there is complete legitimacy and protection in online transactions.
You Can Play Mega Millions Online In 23 States
Unfortunately for some, not all states are quite up to date in terms of online lottery sales. The good news is the list of participating states has rapidly grown over the past year-plus and will continue to do so moving forward.
That said, if you happen to be in one of the following states, meet the age requirement (18+ in most markets), and have internet access through a cell phone, tablet, laptop, or computer, then you should be good to go in just a couple of moments.
You will notice that 14 of the states (and Washington D.C.) allow prospective players to make purchases through the Jackpocket app, while other sales are executed through a state-controlled website or app.
Here's the full list of 23 states where you can currently buy Mega Million tickets online:
Arizona – Jackpocket
Arkansas – Jackpocket
Colorado – Jackpocket
Connecticut – State lottery website
Georgia – State lottery website
Idaho – Jackpocket
Illinois – State lottery website
Kentucky – State lottery website
Michigan – State lottery website
Minnesota – Jackpocket
Montana – Jackpocket
New Hampshire – Jackpocket
New Jersey – Jackpocket
New Mexico – Jackpocket
New York – Jackpocket
North Carolina – State lottery website
North Dakota – State lottery website
Ohio – Jackpocket, Jackpot.com Ohio
Oregon – Jackpocket
Texas – Jackpocket, Jackpot.com Texas
Virginia – State lottery website
Washington DC – Jackpocket
West Virginia – Jackpocket
Buying Mega Millions Ticket with the Jackpocket App
As you can see from the above state list, the Jackpocket app is the most common way to play online.
Jackpocket works directly, hand-in-hand, with state lotteries to help facilitate online purchases:
The brand's growing popularity has been fortified thanks to local media partnerships and marketing deals with a number of sports franchises in key markets.
Whether it's a New Jersey deal with Rutgers University athletics or a creative Texas partnership headlined by a bullseye in the second deck of Globe Life Field that could pay one lucky user $100,00 Jackpocket is getting eyeballs and creating buzz.
The popularity and legitimacy are key, but so is the fact that it's just a strong overall app.
It looks good, moves well with easy navigation, and it's fast. Whereas some state lottery websites and apps look old and stale, don't function swiftly, and lack other user experience features, Jackpocket feels like an app developed with UX top of mind.
Moving money into and out of the app is easy, too, with popular payment methods like Visa, MasterCard, Discover, Apple Pay, PayPal, Venmo, and electronic checking each in play.
Eligible players looking to jump in can do so by following these steps:
Click this link to download. This will unlock the signup offer.
Open up an account by giving your full name, your cell phone number, and a valid email address.
Select Mega Millions (or a handfull of other popular national and state-specific games).
Purchase your ticket.
Play the Lottery Online in Virginia
The Virginia online lottery is an extremely popular program that is available through both web and mobile apps.
Those who sign up online will receive a tangible benefit for doing so. By playing with code HANDLE, first-time depositors will receive a deposit match of up to $100.
Notably, other draw games like Powerball are available, as are scratchers and print 'n play options.
Mega Millions Tickets Also Available Online In Michigan
Like Virginia, the Michigan online lottery is a state-led platform that is available both on the web and an app.
The state has experienced meteoric growth in terms of overall lottery sales as it appears poised to eclipse a staggering $5 billion in 2023. While perhaps there is some convenience in buying a sandwich, bottle of water, or a tank of gas with a lottery ticket, online players receive an entirely different, and much more lucrative benefit thanks to two strong promotions:
Not only will players receive immediate access to Michigan Lottery online free play games, they will also claim a 50% deposit match and two separate $15 bonuses with their first two deposits.
Playing Mega Millions online: What to Know
Ultimately, how you play games like Mega Millions is going to come down to personal preference, but the growth trajectory and obvious benefits of buying online lottery tickets are hard to ignore.
It comes down to a few key categories:
Convenience: Sure, lottery kiosks and over-the-counter purchases are readily available at retail locations, but online allows the ability to play without hopping in the car or even taking a walk down the street. In this case, save time and gas money by playing right from your couch, work desk, or, well, anywhere.
Legitimacy: Great strides have been made in online purchases throughout the years, and prospective players should be comforted not only by the general security enhancements made through this evolution but by the simple fact that state regulators impose the most stringent of measures to ensure the safety of funds and the execution of winning payments.
Players have access to their games and ticket numbers all time, and with tickets tied directly to user accounts, there is no risk of losing a ticket.
Bonuses: If you're into getting something for nothing, then the bonus structures offered directly through state lottery operations and third-party couriers is worth checking out. Deposit matches and free gameplay headline the available offers, providing first-time players with the chance to both score cash payouts and get acclimated with the games while significantly diminishing player risk.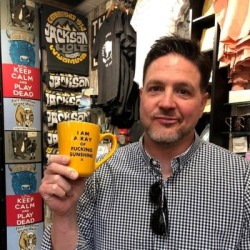 Latest posts by Jason Ziernicki
(see all)