How to Buy Powerball Tickets Online
With huge payouts and frequent media attention, Powerball continues to be one of the most popular national lottery games. Given the immense demand to play, especially when jackpots soar to astronomical amounts, it's worth noting that you can buy Powerball tickets online in several states.
With third-party online lottery apps like Jackpocket, buying Powerball tickets can be done with great efficiency on both mobile phones and devices with internet access.
Right now, prospective players in 15 different online lottery markets can buy Powerball tickets with Jackpocket. Given 45 states along with Washington D.C., Puerto Rico, and the U.S. Virgin Islands all operate lotteries, the app is currently live in less than 1/3 of the addressable lottery-playing markets.
Over the coming months, the app figures to launch in even more states, continuing to establish the brand as a household name.
Where to Buy Powerball Tickets Online
Playing Powerball online right from your phone, tablet, or computer is quick and easy thanks to Jackpocket. No more will users have to a local gas station, convenience store, or grocer.
With apps built for iOS, Samsung, and Android devices, users looking to play the lottery and score a signup bonus can follow a few simple steps (as long as you're 18 years of age or older):
Click this link to download the Jackpocket app.
Create an account by completing the registration process. You will need to provide your full name, your cell phone number, and a valid email address.
Select the Powerball game (players also have access to games like Cash 4 Life, Mega Millions and state-specific daily games).
Complete the purchase of your ticket.
Use our Jackpocket Powerball Promo Code upon check-out of your first purchase.
It's a straightforward process and takes just a few moments to complete. The specific purchase process is easy, too, given Jackpocket provides a number of easy ways to fund account balances.
Visa, MasterCard, Discover, Apple Pay, PayPal, Venmo, and electronic checking are all available, providing a wide range of deposit options. Once the method has been confirmed, funds for purchase typically become available immediately.
In the event a ticket wins, Jackpocket will directly payout gains of $600 or fewer by using many of the same banking options.
Should a player win a substantial contest like a Powerball jackpot, which eclipsed the $2 billion mark in a November 2022 drawing, payment directives are initiated by the state lottery, just as they would be with a traditional retail purchase.

States Where You Can Play Powerball Online
In total, 23 states offer online options to buy Powerball tickets. Currently, Jackpocket operates in 14 different states and Washington D.C., which means eligible players in the following 15 total markets can buy Powerball tickets online via Jackpocket:
Arizona – Jackpocket
Arkansas – Jackpocket
Colorado – Jackpocket
Connecticut – State lottery website
Georgia – State lottery website
Idaho – Jackpocket
Illinois – State lottery website
Kentucky – State lottery website
Michigan – State lottery website
Minnesota – Jackpocket
Montana – Jackpocket
New Hampshire – Jackpocket
New Jersey – Jackpocket
New Mexico – Jackpocket
New York – Jackpocket
North Carolina – State lottery website
North Dakota – State lottery website
Ohio – Jackpocket, Jackpot.com Ohio
Oregon – Jackpocket
Texas – Jackpocket, Jackpot.com Texas App
Virginia – State lottery website
Washington DC – Jackpocket
West Virginia – Jackpocket
Play Powerball Online in Virginia
The Virginia online lottery operates its own platform (players can sign up to buy tickets and claim a 50% first deposit match of up to $100 with code HANDLE). All major ticket draws like Powerball and Megamillions are available on the VA lottery app and website.
Powerball tickets are available online in Michigan
Lottery players in Michigan can easily purchase Powerball tickets via the online lottery site or the MI lottery app. Lottery growth in Michigan has been massive, with the state set to hit $5 billion in sales this year. The Michigan online lottery provides plenty of new bonus options for first-time players:
SIGN-UP BONUS: Receive 20 free Instant games automatically when you use Michigan lottery promo code "Handle".
DEPOSIT BONUS: New users receive a 50% Match + $15 Free on your first two deposits
Pro Powerball Tip
Yes, we recommend the Virginia and Michigan online lottery platforms to buy Powerball tickets, however, you will notice that the Jackpocket app has a crisp and clean look and quick functionality, and it's easy to use.

This is a far cry from many state lottery sites that are bogged down by archaic design and less efficient functionality.
Oh, and for those who like to play the lottery with coworkers and friends, the app provides the ability to complete a pool purchase, instantly assigning ticket rights to multiple parties, alleviating any gray areas about who can lay claim to prizes in the event of a winner.
Is Buying Powerball Tickets Online Safe and Legitimate?
Some people may prefer to physically purchase a ticket and hold their numbers right in their hand, but there's really just no need.
As we've seen with transactions across numerous other areas of commerce over the past three decades, online purchases are the future. The lottery is no different — although some states are ahead of others when it comes to entering the 21st century.
The expansion into the online space was first initiated back in 2012 when the state of Illinois launched operations. Since then, a number of other states have implemented their own state-operated platforms, approved third-party apps, or a mix of both.
Of course, the main question becomes whether or not apps like Jackpocket safe and legit? After all, players will want to know a potential winning ticket will actually secure a cash payout.
The answer is "yes," as those who buy tickets for Powerball and other lottery games online will be glad to know the apps fulfill and complete orders directly through the lottery on behalf of the purchaser. In fact, 25 millionaires have been created via the Jackpocket app. As is the case with legal online sports betting and casino gaming, operators must clear stringent and thorough checks initiated by state regulators.
It will then store the lottery ticket right in the app wallet for you to have and view at all times. In this way, it's actually a safer way to store a ticket than stuffing it in your wallet or pant pocket.
Notably, those in several of the above markets may have noticed the app's increased brand presence through collegiate and professional athletic partnerships.
For instance, Jackpocket has made marketing deals over the last two years with Rutgers University athletics, the New Jersey Devils, Dallas Stars, and Texas Rangers, among others.
It has also expanded its marketing presence, specifically in the radio medium, through partnerships with iHeartMedia that have made Jackpocket the official digital lottery courier of the popular Elvis Duran and Z100 Morning Show.
What Does It Cost to Play?
Players can execute online Powerball ticket purchases for the same $2 in-person cost, although the app does initiate a fractional convenience fee ranging between 7-10%.
In this case, it would draw a fee of somewhere between 14 and 20 cents.
Conversely, purchasing tickets at retail locations doesn't come with the added benefit of a signup bonus, which Jackpocket provides.
In fact, all new players who sign up to play through the app will receive a free $3 lottery ticket purchase.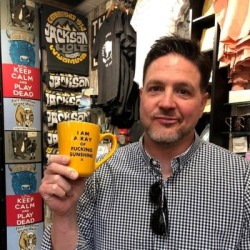 Latest posts by Jason Ziernicki
(see all)