Online Lottery Sites & Apps Mega Growth Exceeding Expectations
More than 50% of eligible Americans buy lottery tickets. Currently, however, only 5%-7% are purchased online, according to Gallup polling data. While several states offer online lottery games and tickets, the industry is on the precipice of massive disruption as venture-backed, web-first companies vie to be a one-stop destination for all things lottery.
Here is everything you need to know about the evolving online lottery space, which states offer mobile tickets, the sites and apps you can use to play, and the numbers underpinning it all.
The evolution of the United States lottery
Currently, lotteries are prevalent in the majority of the United States. In fact, approximately 45 states offer both instant win games, such as physical scratch-off tickets, and drawing-based games, constituting a multi-billion dollar industry. Only Utah, Nevada, Alabama, Hawaii, and Alaska do not offer such gambling, each state's decision being influenced by political or religious factors.
While some games, such as Powerball and Mega Millions, have national reach, each state governs its own gaming regulations. In other words, variables such as purchase procedures and available games lack uniformity.
Originating prior to the Declaration of Independence, the modern system was implemented by the original colonies in an effort to generate revenue to cover operational expenses. State lottery systems experience a renaissance in the second half of the 20th century, despite facing significant opposition during various periods of the 1800s.
In 1964, New Hampshire led the way, followed shortly by densely populated east coast states such as New York and New Jersey. This initiated a nearly six-decade trend that has required 90 percent of states to implement rollout games. Mississippi was the most recent state to approve a lotto, doing so in 2019.
Historically, the majority of patrons have acquired tickets from convenience stores, gas stations, and grocery stores. Tickets can be purchased directly at such locations via kiosks and machines in the modern era, frequently without human interaction.
As stated previously, several states have launched their own online platforms in the past decade, while others have authorized third-party applications.
States that offer online lottery Programs
First and foremost, yes, it is legal to purchase lottery tickets online, but only in certain states.
Currently, 10 states offer wide-scale direct online lottery ticket sales or instant-win games. However, many states are increasingly turning to lottery courier services which accept and fulfill orders for lottery tickets through a mobile app. What's more, these services have visions of becoming more deeply ingrained operators of lotteries and sweepstakes.
States with their own online lottery sites
These states offer some combination of instant-win or scratch-off and lottery drawing ticket sales directly through their own websites and mobile platforms.
Some states, like Pennsylvania, Michigan, and Virginia, are more advanced in their online suite of lottery offerings– they have built robust platforms and invested in furthering their product offerings for the mobile user. Most states, however, are a bit primitive, with a user experience that lacks what most consumers have come to expect from mobile offerings.
There are generally two types of online lottery products: instant and drawing.
Instant
Instant win and scratch games are the ones where you can play an on-demand game to determine if you've won. These are most akin to traditional scratch-off lottery tickets that provide immediate results.
Drawing
Most states offer some form of daily lottery drawing, usually done on live television, for which players can buy tickets with pre-selected numbers ahead of time. In this case, these tickets may be purchased online directly through the lottery operator's website.
States that offer third-party lottery couriers
While the number of states currently offering direct online products is currently limited, the evolution of courier services is moving fast, providing prospective players with third-party platforms like Jackpocket that facilitate both the purchase of tickets and collecting possible winnings. As of 2023, 15 states and Washington D.C. offer third-party mobile lottery play.
| | |
| --- | --- |
| State | Apps |
| Arkansas | Jackpocket |
| Colorado | Jackpocket, Lotto.com |
| Idaho | Jackpocket |
| Ohio | Jackpocket |
| Oregon | Jackpocket |
| Minnesota | Jackpocket |
| Montana | Jackpocket |
| New Hampshire | Jackpocket |
| New Jersey | Jackpocket, Lotto.com |
| New York | Jackpocket, Lotto.com |
| Texas | Jackpocket, Lotto.com, Jackpot.com |
| West Virginia | Jackpocket |
| Washington D.C. | Jackpocket |
Moreover, such sites, some of which are available via mobile devices, provide information and services that are absent with traditional on-location retail purchases.
The difference between a state-run and third-party online lottery apps
Regardless of how a state makes available its online lottery system to the public the end result is the same in that prospective players have the ability to make digital purchases. Still, there may be some confusion over the difference between a state-led operation and one that is facilitated by a third-party app like Jackpocket, so let's flesh out the core variations.
A state-led system provides a direct service to an online lottery purchaser. In other words, the state creates and operates the platform, tech, and required upkeep that goes with running a reliable, reputable and efficient system. For example, the Virginia Lottery operates its own website and provides users with games.
Although this distinction seems rather obvious, it's important to establish the fundamental concept in order to explain how a third-party online lottery app or courier service differs. A third-party app simply acts as a "middle man" between the traditional state lottery system and prospective online player. In other words, Jackpocket, Lotto.com and the like, purchase tickets on the behalf of players from the state lottery system and will then hold and transfer tickets in the event of a win.
As a, uh, digestible example, let's consider the somewhat comparable dining service industry. Some restaurants offer up their own online ordering point-of-service systems and delivery platforms. This, however, can be costly and divert from the core business. So, rather than spend to build such a system and service patrons with a self-operated delivery platform, restaurants will tab third-party apps to supply the online ordering technology and handle the delivery (transfer of services).
Whether an online lottery is state-led or facilitated via third-party means, the customer still secures the desired product.
The rise of the online lottery ticket courier service
The vast majority of lottery tickets are still purchased through traditional means such as convenience stores, gas stations, and bodegas. However, according to a CNBC article on Jackpot's latest $35 million funding round, only around 5%-7% of lottery tickets are bought online. But this might be about to shift in the near future.
The lottery industry is one of the few that has yet to be fully modernized by digital revolution. Regulations and negative stereotypes have limited its growth, leading state-run lotteries to remain stagnant while many other industries transition towards mobile technology.
Lotteries got pushed even further toward the back of the gaming world's mind when the Supreme Court overturned PASPA in 2018 and paved the way for legal online sports betting and casino games. DraftKings, FanDuel and their gaming peers captured the imagination of gamers, investors, and the press alike.
This all means that your lottery experience today has not changed much over the past decade. But few industries avoid the inevitability of digital disruption, and the lottery industry is no exception. Whether it's purchasing groceries, goods, or a shot at a big payout, the ease, efficiency, and convenience offered by mobile transactions, in time, will change the way things were.
Of course, increased consumer demand and interest are key variables for growth and/or a shift in industry, and recent events have helped stoke the proverbial fire. The November 2022 Powerball jackpot soared to a record-breaking $2.04 billion, generating a higher volume of search queries regarding how to purchase tickets online. In this way, the newsworthiness of such gaudy payouts serve as an organic way to spark heightened interest in online products many consumers didn't previously know existed.
As for the product, an explosion of investment has come into digital apps, called "couriers," poised to disrupt the lottery space.
Recently, the popularity of participating in lotteries from the comfort of your own home has been on the rise. It hasn't quite gained as much attention as sports betting or casino gaming after PASPA, but recent advances suggest that this could be about to change.
To help reach a wider audience, social media ad spend and collaborations with major sports events are set to raise the profile of third-party online lottery apps. It is believed that they will soon become more accepted by the public at large. Most notably, Jackpocket has entered into multi-year agreements with a number of Major League Baseball teams, including the Colorado Rockies, Texas Rangers and New York Mets.
You're likely to see third-party online lottery services become more prominent in sports arenas & stadiums, particularly due to partnerships that leading sportsbook operators have formed with professional sports teams and well-known college brands. This will offer an enhanced fan experience for the viewers.
What is a lottery courier service?
A lottery courier service in a mobile app that will allow you to buy official state lottery tickets through a third-party "courier."
Users choose their game and preferred numbers, and the courier service – in this case the app – fulfills the order, either in-person or directly with state lottery operators. The courier charges a fee to users for the convenience, similar to Uber or Door Dash.
Couriers also allow lottery pools – such as those coworkers enter for Powerball or Mega Millions jackpots – to be automated, avoiding the conflict that confronts many winners.
Users benefit from the convenience of a user-friendly interface and, you know, not having to go into a bodega to buy a physical ticket.
However, there is more.
More efficient fulfillment could be the gateway to an entirely new realm of sweepstakes-based gaming and competitions.
In investor presentations, industry executives have noted that couriers can use sweepstakes to entice new users to sign up, especially in conjunction with sports teams:
Naturally, online capability also lends itself to a social element. For instance, Jackpocket users can benefit from referral incentives by sending app registration links to eligible players who are located in live states, earning credits that translate to free entries and tickets.
From a logical perspective, the pairing of time efficiency with added incentive into a clean, easy-to-use app experience, will steadily move a growing number of players onto digital lottery platforms.
Current online lottery ticket apps
Right now, prospective online lottery players in a number of states have at least one access point, whether it be through state-run platforms or via third-party couriers, as noted above.
Jackpocket
Of the third-party app options, Jackpocket has emerged as the early industry leader. It currently draws over 108,000 reviews in the Apple Store, drawing an average rating of 4.7 stars out of five.
Available via iOS and Android, players are able to access both instant win contest and future drawings like Powerball and Mega Millions. Founded in 2013, the app became of the first of its kind to gain legal license in the United States.
It's currently available in Washington D.C. and in each of the 13 following states: New York, New Jersey, Texas, Ohio, Arkansas, Colorado, Idaho, Minnesota, Montana, New Hampshire, Oregon and West Virginia.
The app offers direct access to a featured game of the day, a digital wallet that organizes account balanced, live tickets, and previous purchases. Moreover, it provides direct access to current and future games, player loyalty bonuses, and partnership-based exclusives.
Features like autoplay allow users to set preferred numbers for repeated future contests, ensuring players don't miss drawings.
Lotto.com
The New Jersey-based Lotto.com does not yet have the same reach of Jackpocket, but has recently expanded into four major state markets, now live in Colorado, New Jersey, New York and Texas with its desktop, iOS and Android platforms.
Given its lessened score, it has only received 27 product reviews on Apple, generating an average 3.2 stars out of 5.
More basic in appearance and function, the app presents much like it does on mobile and desktop and currently lacks the alternative features and sponsor-driven incentives of its chief rival. Still, it drives direct access to popular games such as Mega Millions and Powerball.
Online lottery ticket safety: Is it legit?
Any app that requires a financial transaction will always be heavily scrutinized for its security and flexibility in terms of accepting and disclosing payments, so let's address some of the most pressing concerns in this area.
Regarding the safety of online lottery ticket purchases, it is important to note that both state-led digital systems and approved third-party apps, such as Jackpocket, have been approved by individual state legislators. In other words, electronic purchases are afforded the same safeguards as traditional, hard-copy tickets.
Practically speaking, those who purchase tickets from authorized online vendors need not worry about payment failure.
The same principles apply to account funding. As is the case in the legal online sports betting industry, online lottery platforms and similar applications are held to a high standard of honesty and must adhere to stringent regulatory requirements.
This adequately protects card and/or account information. Only the last four digits of a routing/account number are stored by Jackpocket. The remainder of the data is encrypted, per industry standards.
Aside from a small number of state-run online operations, Jackpocket and Lotto.com are the only other approved couriers, which means that any other app or brand is likely fraudulent.
How to purchase tickets and redeem winning payouts
While third-party couriers remain relatively new in the space, the options for funding an account and collecting winnings are fairly expansive.
More specifically, Lotto.com players can use Mastercard, Visa Debit, and Visa Credit to make payments, while wins are fulfilled through a checking account wire transfer take typically take 3-5 business days.
As for Jackpocket players, there are a few more action. PayPal, direct bank account transfer, E-check, Play+, credit card (Visa, Mastercard, Discover), Apple Pay (with an eligible payment method), and Venmo are each accepted. Smaller payouts can be transferred to a bank account or played back on future ticket costs.
As for large prizes, each participating state sets a threshold for electronic transfer. For wins that exceed this threshold, the winning ticket will be securely transferred over so that profits may be redeemed through traditional measures.
As it stands, the current prize threshold ranges from $500-600. Any potential win exceeding the threshold will trigger the ticket transfer, requiring the winner to contact the state agency for full payment.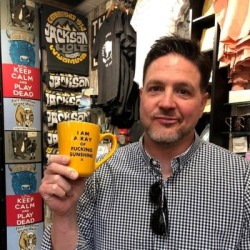 Latest posts by Jason Ziernicki
(see all)